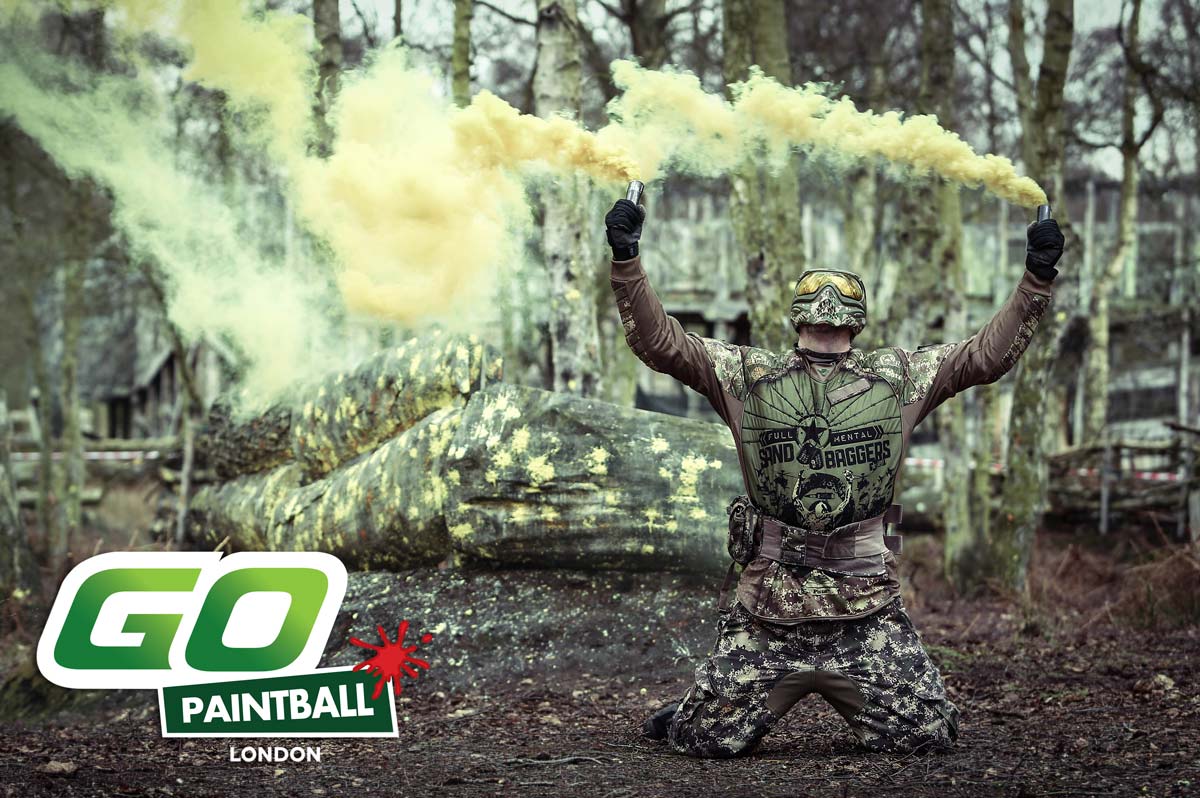 We're not just blowing our own trumpet; our customers agree that we put on the best outdoor paintball games near London.
We believe that paintball is an activity that everyone should try at least once. It builds confidence, communication skills, encourages teamwork and is a super fun day of exercise and adrenaline that needs to be experienced to be believed.
We've got 6 compelling reasons why we're the best paintball provider in the London area:
1. Professionally designed outdoor paintball games & maps
Many other paintball companies simply plonk you down in an overgrown farmer's field along with as many questionable military-shaped trinkets as they can get their hands on.
We do things differently.
We believe paintball is as much about tactics as it is about trigger fingers. Our game maps are designed to be balanced and reward tactical thinking as well as teamwork.
Sure, we've got the huge, outdoor game centre with themed battlefields, including a fort and village compounds, just like everyone else, but what we're really proud of is the way that our staff clearly and concisely explain the rules and approach for the different types of paintball games that we play.
Here's a review from Dylan, one of our satisfied paintball players:
"HIGHLY RECOMMENDED! One of the best paintball experience I've had, and I've been to a few! Very organised, very knowledgable and they take health and safety very seriously while making it very fun! The staff get very involved, making it competitive and run through tactics and plans before every game. The staff made the whole day an absolutely amazing experience, I will definitely be going again! The game modes were a lot of fun, but I won't say what they are as the surprise of finding out and seeing them for myself was amazing ;)"
See our paintball outdoor fields before you play with our YouTube video.
2. Upgrade your paintball weapon to suit your play style
Paintball's a totally different ball game with our weapon upgrades.
Upgrade your standard paintball marker to an AR-15 Assault Rifle, an A5 Sniper Rifle or a professional-grade GTEK Submachine Gun. Playing paintball with professional equipment is a totally new experience and something that everybody should try.
Here's a review from Jay, who experienced the weapon upgrades first hand:
"Staff were very helpful and friendly! Had a great time shooting and getting messy! TIP: If you plan to go bring a spare towel & more money as you will be tempted to upgrade your weapons. Couldn't ask for a better day!"
3. Quality goggles and paintball equipment
Nothing ruins paintball faster than a poorly fitted facemask or goggles that steam up. Players who have tried paintball before will immediately notice the difference when they use our high-quality rental gear.
Our no-fog goggles and flexible body armour — perfect for those worried about bruises — make for a hassle-free paintball experience that you won't get anywhere else.
4. Run by the former UK #1 paintball player
Go Paintball is founded by Tommy "Gun" Pemberton, an ex-professional paintballer. Tommy played for London Nexus, the greatest paintball team to ever represent the UK.
After retiring from the professional scene, Tommy decided to bring his paintball game ideas to a whole new generation of players by founding GO Paintball. It's Tommy's professionalism that sets us apart from our competitors and means that our staff are knowledgeable, our paintball fields are tactical and our equipment is first class.
5. Five-star quality, as rated by our customers on Tripadvisor, Facebook and Google+
We put a huge effort into making your paintball experience special — and it pays off.
Here's a review from Andrew who took his colleagues for a corporate paintball experience recently:
"Took our games team today for a team bonding experience and had an amazing time.Great equipment available (the GTEK's are amazing) and brilliant support from the guys on the ground. Superb grounds to play on with great themed games with v clear instructions. The whole team had an awesome time. Thanks guys!" — Visited June 2016.
Thank you, Andrew! It's thanks to satisfied paintball players like him that we have a five-star rating for our paintball site on Tripadvisor.
6. Our paintball prices are fair and transparent
Are you tired of feeling ripped off by paintball sites that let you in for cheap then charge £9 or £10 per hundred paintballs? So are we!
Our paintball offers are fair and reasonable. Our packages start at £5 per 100 paintballs, and if you spend at least £20 you'll get a free pizza and drink for lunch.