Free
Pizza Hut
Pizzas
& 100 extra paintballs!
Birthdays
Paintballing Birthday celebrations at GO Paintball London – London, Surrey and Kent's premier Paintball venue
Looking at organising an awesome Paintballing Birthday event? Then you've definitely come to the right place! A large number of our groups of all ages visit us for Birthday parties as Paintball is perfect for an adventurous, memorable and super fun way to celebrate a Birthday in style.
Plus, nothing is better to bring your friends together from far and wide than a Paintballing shoot out! Playing both with and against your friends creates epic war stories that you'll be able to re-tell together for years to come.
Setting Paintball standards in the UK – what you should know:
Run by the Former UK#1 Paintballer

We like to do things differently – You'll get the best, hand picked equipment and professionally designed game maps for the best experience possible!

Free Pizza Hut pizzas

A free 9" Pizza Hut pizza and a drink is included per person within your chosen ammo package, keeping you well fuelled until home time.

Guaranteed best customer service

We genuinely care – providing the safest, most fun and most personable Paintballing experiences possible for our guests, and are so proud of the feedback we receive.
London's nearest outdoor paintball venue

Ideal location for London, Surrey and Kent. We are a 25 minutes train ride from central London and only 5 minutes from the Surrey stretch of the M25.

Choice of 2 pro level gun upgrades

The first venue in the world to offer professional level beastly Etek Assault Rifles and sharp-shooting Etha Sniper Rifles – choose a weapon that suits your style!

Our Ammo Packages

On your event day, each individual to choose an amount of ammo to suit their own budgets, whilst taking part in the same games together.
Extra 100 paintballs = Packages at £5 per 100!

You'll now get 100 extra paintballs on all of our packages. Where other venues comparably charge £9+, our paintballs on packages are £5 per 100.

The best hand-picked equipment

The best standard issue rifles, 'Anti Fog' goggle systems and camo overalls. Body armour is also available for free.

Full day events over 8 games

We run full days on public weekend events for the best Paintballing experience – you'll play 8 varied games over 4 of our epic game maps!
Prices per person – 2 easy payments!
To make it easy and keep the initial cost down for you as the group organiser, you only need to pre-pay each player's Full day venue Admission and Equipment hire, to book your event and reserve your spaces.
On your game day, each individual selects which of the below Ammo packages they would want to go for, depending on individual budgets and how stuck in they want to get, and pay for it on the event day. This means there no need to pre-pay ammo to get the best prices, yet still getting full flexibility for each player to budget their own day.
1st Easy Payment – £14.99 per person

Full day venue Admission and all Equipment Hire
2nd Easy Payment – Individual Ammo Packages (below)

Now including 100 extra Paintballs, a 9" Pizza Hut pizza lunch and drink!
400 Paintballs

+ £20.00

for 400 paintballs plus free lunch (300 + extra 100!)

600 Paintballs

+ £30.00

for 600 paintballs plus free lunch (500 + extra 100!)
Perfect for kids
Minimum needed @ 50 Paintballs per game
800 Paintballs

+ £40.00

for 800 paintballs plus free lunch (700 + extra 100!)

1000 Paintballs

+ £50.00

for 1000 paintballs plus free lunch (900 + extra 100!)
Most popular packages
100+ Paintballs per game
1200 Paintballs

+ £60.00

for 1200 paintballs plus free lunch (1100 + extra 100!)

1500 Paintballs

+ £75.00

for 1500 paintballs plus free lunch (1400 + extra 100!)
Legends in the making
150+ Paintballs per game
You'll be armed with the best gear, led by events experts and targeted by your mates. It's time to clock in to the battlefield!
How to book or find out more
Please use our handy Availability checker (above) to check dates or book in online. Our friendly team is available Monday to Friday 9am–6pm should you have any questions at all, so please don't hesitate to get in touch.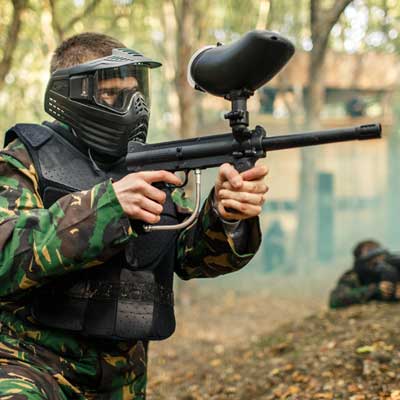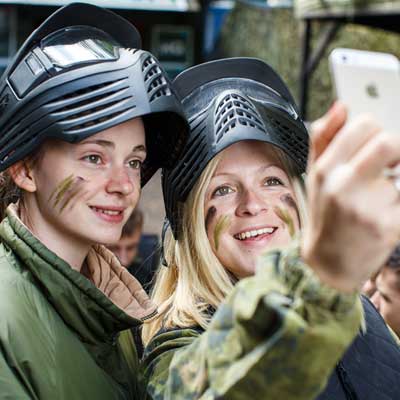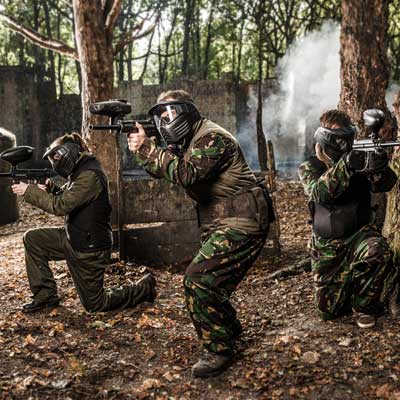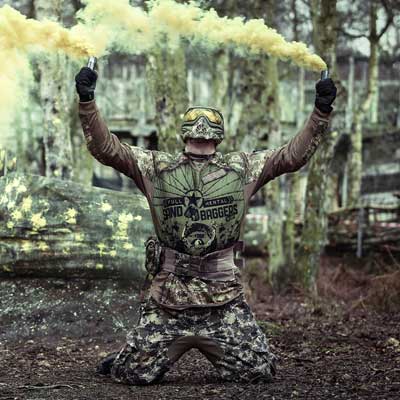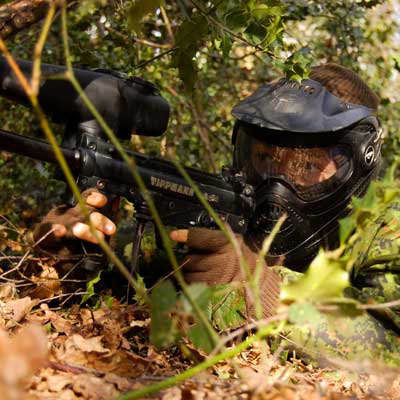 My daughter celebrated her 16th birthday here. She and her friends loved it. The staff are amazing and remember everyone's name, they are very welcoming and make it fun. They also make sure everyone is comfortable and ready to have fun. Massive thanks to all the stuff for making Megan's birthday one she will never forget.

Lisa Atkinson – via Facebook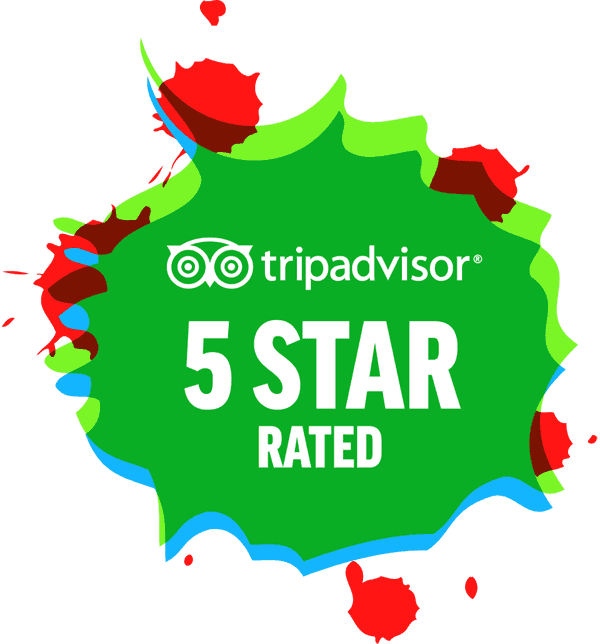 A group of 20 or so mates and myself visited GO Paintball London for a birthday and I have to say it is definitely the best venue I have ever been to! The staff were super friendly from the moment we arrived, had a great sense of humour and were very attentive to our needs throughout the day.

Jonathan Osborne – via Google+
As Featured on: