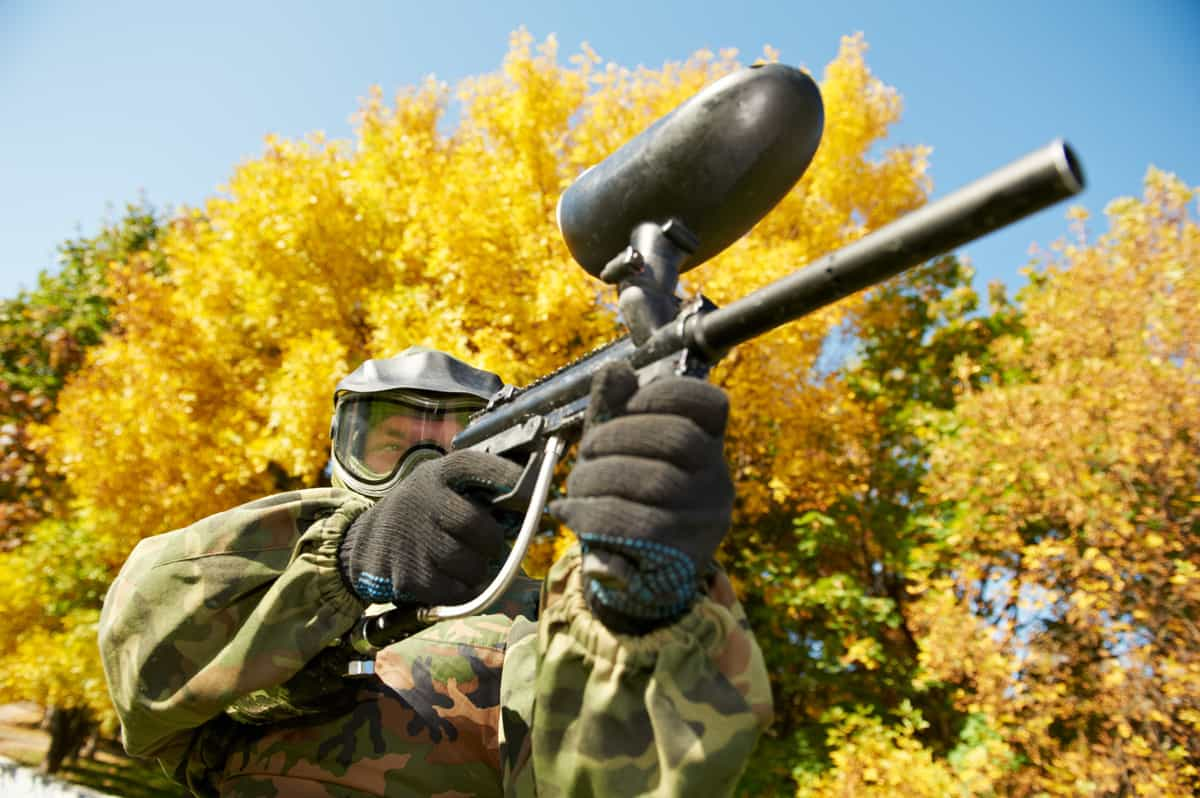 With Father's Day right around the corner, now's the time to make a battle plan. Paintball offers a unique and exciting activity that's the ideal choice for a celebratory dad day.
Many people are happy to celebrate father's day with minimal fuss, some nice food and a beer or two. But why not offer something more exciting this year? It doesn't get much more exciting than paintball. Team vs. team authentic combat, exhilarating scenarios and expertly designed battlefield environments; it certainly beats an average Sunday roast, doesn't it?
Here are a few reasons why we think paintballing is the perfect choice for your father's day celebrations.
Paintball is Great for Stress Relief
Father's day is an opportunity for dads to take a day off and forget about the general stresses and strains of working life. The authentic combat nature of paintball makes it a superb activity for stress relief. It's highly energetic, provokes tactical thinking and allows you to shoot each other with paintball guns. What more could you ask for?
For dads, it's a great chance to forget about work or any other aspect of their life that's currently causing some stress. By fully immersing themselves in a paintball environment, they can give their problems a time-out and enjoy the whole day with family and friends.
It Will Be a Day to Remember
Can you remember what your family got up to on the previous Father's Day? A takeaway, a few drinks, or a Sunday roast are usually the most common ideas. Although you can probably remember what you did, it doesn't necessarily make it a day to remember. Paintball offers a full day of exciting activities that you and your family will remember for years to come.
A paintballing battlefield is a perfect environment to face off against family members, settle rivalries, get your own back against moody kids, or even get revenge for being grounded last month. In the midst of battle, each gun fight will be an intense affair, but at the end of the day, you'll all go home and laugh about it for years to come.
Everyone Can Get Involved
Paintballing for kids is probably the most popular version of the sport, with paintballing birthday parties being a particular winner. But in reality, it's an activity that's suitable for a broad range of age groups. As a competitive sport, it's played all over the world on a professional level. Here at GO Paintball London, we strive to provide the ultimate paintballing experience for all of our players, no matter if they're a child (8+) or an adult.
Paintball puts players in authentic combat situations, so to maintain a safe environment for our younger attendees, we use weapons that fire with less power and create less of an impact when a shot connects. Doing so allows us to include younger players, meaning that for occasions like Father's Day, the whole family is more likely to have a chance of playing.
Paintballing: A Fantastic Source of Exercise
A few hours of exercise wouldn't usually be on the agenda for Father's Day, but paintball offers an activity that will allow you to burn lots of calories without even realising it. This will probably come in handy if you're planning to eat a hefty Father's Day meal at the end of the day.
By the time you explore our five expertly-designed maps, you will not only have covered a tonne of ground, but also experienced some intense combat scenarios. You'll be sprinting, climbing, ducking and diving around our five maps, and receiving the benefits of an active day of exercise.
Father's Day is only a few weeks away, so instead of making last-minute plans to meet up for food, why not prepare for a whole day your family will certainly remember? Paintball is an exciting alternative to other family activities and a surprising treat to make the most of a special occasion.
If you think paintballing is the perfect way to celebrate Father's Day or another upcoming occasion, you'd be right! Get in touch to see what GO Paintball London can do for you. Give us a call on 0208 935 5638 (Mon–Fri) or 07850 077199 (Weekends), or email us at hello@gopaintball.co.uk.