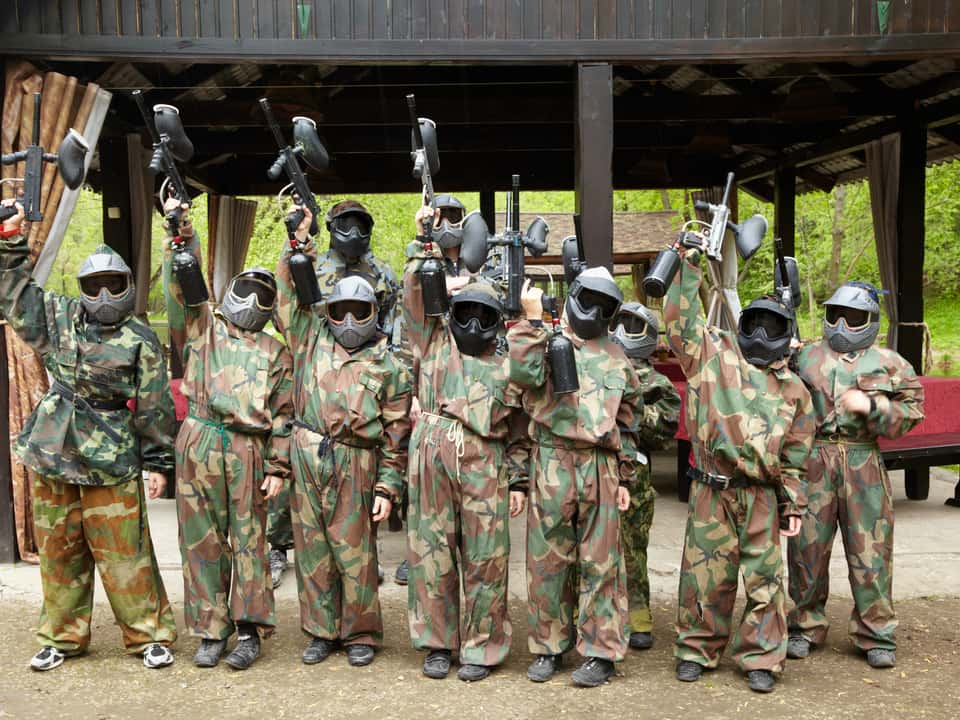 There's no doubt you'll experience more than enough Christmas events and activities this month. So, why not do something unique and exciting to put yourself in a good mood for the festive season? It's safe to say that paintball ticks both of those boxes!
Christmas is the time of year when people let loose, relax, drink more than is advisable, and consume their body weight in food. While some people prefer the conventional Christmas activities, others opt for something more unique to make the most of some well-earned time off – and what better way to spend a day with friends than enjoying the best paintball party London has to offer?
Whether you're a parent looking for an exciting activity for your child's birthday, or an adult with an upcoming birthday that you'd like to celebrate in a unique way, both adult and kids paintball are an excellent choice. Here's why!
Paintball: A Great Excuse to Rally the Troops Before Christmas
The festive season is as chaotic as it is enjoyable. With so many family and other events to attend, presents to buy and a mountain of food to prepare, finding the time to plan a party is difficult. The free time you do have should be used efficiently, and it's difficult to think of a more unique and engaging way to spend a day than the best paintball party London has to offer.
Here at Go Paintball London, we strive to make each and every experience as perfect as it can be for our players. If there's a birthday coming up and you'd like to celebrate it amidst the carnage of a paintball battlefield, we'd love to help you achieve that!
Paintballing: A Better Alternative to a Standard Christmas Do
Although some Christmas parties are actually pretty decent, there's a large percentage of people who don't exactly count down the days until their work's Christmas do. This year, then, why not suggest a more enjoyable alternative? Paintballing not only gives you an opportunity to pummel your colleagues and managers with paintballs, but you can even make a case for it being a perfect way to improve workplace teamwork.
A vital aspect of paintball is team tactics, with communication being essential to plan ambushes and navigate the battlefield successfully. Teamwork and communication are two skills that benefit a workforce massively, but let's be honest: the teamwork aspects are just a bonus. The best part about this will be exciting combat and competing against your co-workers.
Paintball Will Help to Burn a Fair Few Calories
Health and fitness have become a major trend and focal point of modern culture in recent years. But, no matter how clean your diet is, Christmas will definitely tempt you to eat some unhealthy snacks. Many people head into the New Year carrying a little bit of 'holiday weight' thanks to Christmas food, so preempting this with some intense exercise will do you the world of good. Of course, paintball has intensity by the bucketload, making it a perfect solution.
When your body is pumping with adrenaline, you tend not to notice how much of a workout you're getting, especially if the activity can result in you being shot by a paintball. You'd be surprised how quickly people can move when they're in someone's crosshairs! The abundance of running, climbing obstacles, ducking behind cover and carrying around a fairly weighty gun all day combines to make a pretty hardcore workout.
Embracing a Christmas Theme is Genius
There's no limit to how exciting, immersive and hilarious a day of paintball can be. This is enhanced even more with the addition of a theme or outfits – and since it's Christmas, Santas vs Elves isn't a bad idea. Here at Go Paintball London, we want you to have the best possible time you can while you're with us. So, providing you are wearing the necessary safety equipment (a paintball mask), costumes are fine. We do advise that you wear a few layers, though!
For stag dos and similar events, we incorporate 'chase the stag' style games, but we'd be happy to alter this for other occasions where the boss or birthday boy/girl is the focus of attention. We're proud to say that we offer the best paintball party London has to offer. On top of that, we're always happy to accommodate the needs of our players to make sure they get the most out of the experience.
Have you been looking for the perfect pre-Christmas treat for your kids? The search is over! Go Paintball's junior paintball is suitable for children aged 8 and upwards and offers excitement and good times in abundance. Book online today or contact us via hello@gopaintball.co.uk for more information.