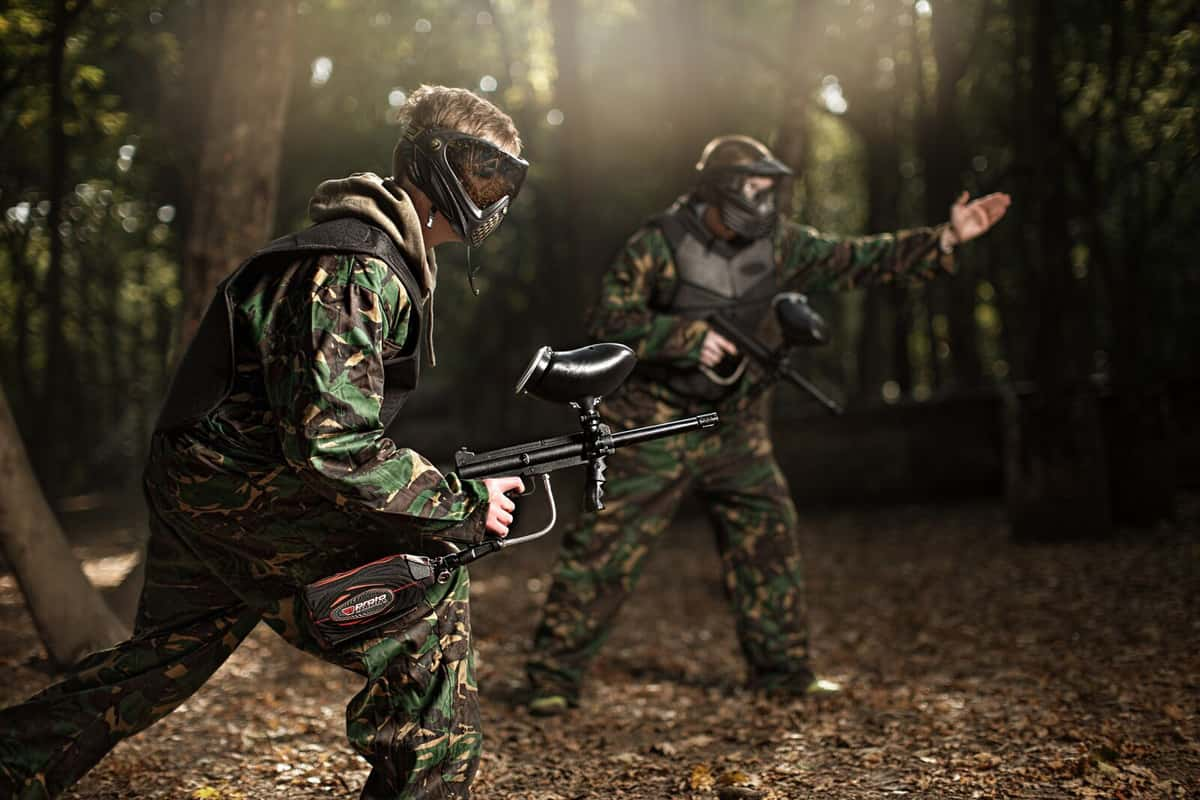 Staying in shape can be challenging at the best of times – and being surrounded by chocolate at Easter makes it even harder to maintain a beach bod. Luckily for you, Paintball is the perfect activity to burn off the calories.
We're all guilty of serial snacking on the odd occasion. The holidays provide the ideal opportunity to do so, due to the vast amount of sugary snacks on offer. Easter is upon us, which means Easter eggs and other bunny-themed treats are sold in abundance, and even after the holiday weekend, the remaining eggs will be sold for next to nothing – making it even harder to resist!
So, with there being a plenty of potential for weight gain over the next month, it would be wise to find an activity to burn off those calories. What better way to do so than a day of the best paintball south London – neigh, the best – paintball London has to offer?
Paintball Gets You Outside
Aside from the amount of food you consume, a lack of exercise won't do you any favours if you want to lose a few pounds. The problem is that if you find yourself sitting around the house for a prolonged period, you will undoubtedly get bored – and when people get bored, they tend to eat.
An exciting day of paintball is not only awesome, immersive-action from start to finish; there are also few activities as fast-paced and addictive as paintballing, meaning you'll be out and about for hours. Our five expertly designed maps allow our players to engage in authentic combat scenarios across 50 acres of varied paintballing battlefields. With so much to explore and so much ground to cover, burning off excess calories won't be a problem.
Paintballing is More Fun than a Treadmill
Paintball isn't a sport that many would associate with fitness benefits. Many see it as an exciting novelty for special occasions, where players can embrace their inner Rambo. In reality, though, the amount of running and general movement involved in a day of paintball is pretty incredible.
An action-packed paintball session will see you chase down enemies, flee from ambushes, duck behind cover, raid buildings, fly through the air (making slow motion noises) and army crawl to a better sniping spot. It's safe to say that while you do all that, you'll be racking up quite the step count.
A Full Body Paintball-Style Workout
Although we are in the midst of the digital era, it also seems that we're in the era of healthy living and fitness. Self-betterment, weight loss and 'foodie' blogs are at the forefront of their respective niches and the gym trend is still very much in effect. The problem is that despite the benefits of keeping fit, conventional ways of doing so aren't all that fun. Well, not as fun as paintball, anyway!
Aside from those cardio-based aspects of paintballing, it's also worth noting the full-body workout that can be achieved by spending a day on the paintball battlefield. Constantly switching between standing, crouched and prone stances are the combat version of squats and burpees. Carrying a paintball gun around for a day will also give your arms a fair workout; a paintball gun to enhance your guns. How fitting!
Appealing Alternative to the Gym
Some people have the get-up-and-go attitude that motivates them enough to go to the gym at every given opportunity. Others, no matter how eager they are to get fit, dread the thought of being at the gym. This could be the reason why we waste millions on unused gym memberships and fitness classes every year.
If you're one of the latter and a gym environment really doesn't give you the motivation to attend regularly, then Paintball is an exciting alternative. The fitness benefits of outdoor paintball speak for themselves – and there's much less motivation involved when the task at hand is pummeling your friends with paintballs.
Whether you're a fitness freak, a couch potato in need of a workout, or anywhere in between, paintball is the perfect activity for an adrenaline-junkie looking for an exciting way to keep fit. The combination of intense cardio, a full body workout and the fast-paced action of paintball will be more than enough to burn off the extra calories consumed over the Easter holiday.
If you're interested in spending the day at our GO Paintball London, then you've made the right choice. We offer the most immersive and exciting paintball experience to each and every player, and would love to do the same for you. Get in contact by calling 0208 935 5638 (Mon–Fri) or 07850 077199 (Weekends), or email us at hello@gopaintball.co.uk.