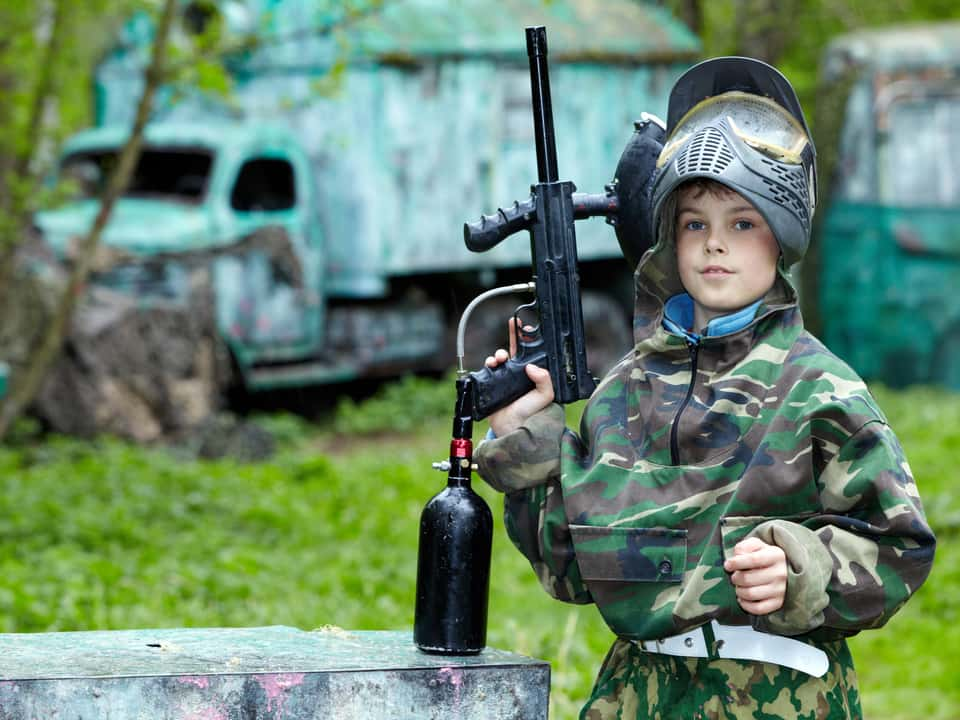 Although Christmas is all but here, there's no reason why you can't start the festivities early this year with a unique treat. Kids paintball isn't on the average Christmas to-do list – and that's why it's such a brilliant way to switch things up this year.
Christmas is undoubtedly one of the most fun times of year, with gift-giving, parties, family get-togethers and mountains of food all to be enjoyed. The build-up to the day itself is also a fantastic period to spend more time with your children and take part in special days out. While younger kids are still mesmerized by the magic of Christmas, as they get older, you'll have to pull out the big guns to entertain them – or in this case, pull out the paintball guns.
In this post, we'll highlight a few of the reasons why you should treat your kids this Christmas with an exciting day of junior paintball!
They Definitely Won't Be Expecting Paintball
If you're looking for a last-minute surprise treat for your kids, then it's safe to say you're onto a winner with a day of mini paintball. Not only is it an immersive and adrenaline-fuelled day out for children and parents, but it's also far from a stereotypical Christmas activity.
If you want to go one step further, you could get the parents to join in, too, and give them a rare and hilarious opportunity to go head-to-head with mum and dad in a fantastic battlefield environment. If safety is a concern, don't worry, because we provide low-power equipment for all kids paintball games so that there's no chance of injury. This may also do you a favour if your children have a particularly good shot!
Rally Their Friends Before the Festive Period
For most people, Christmas is very much a family-orientated affair, which means there is often minimal time for your kids to spend with their friends – especially if your family or their friends' family travel to see relatives. An early treat will give them an amazing day out with their chums before the mayhem of Christmas begins.
Here at Go Paintball London, we love to cater our days of paintball to fit your needs – and when it comes to paintballing, the more the merrier! Our five huge battlefields spread across 50 acres of environments to explore, so a big group will undoubtedly have an experience unlike any other. Plus, it'll give them plenty of stories to look back on well into the New Year.
Paintballing: Perfect if Your Child Has a Birthday in December
Depending on how you look at it, a birthday in December can be a good thing or a bad thing. For some kids, it does mean more presents, but their birthday tends to go by unnoticed due to the craziness of Christmas. To make sure their birthday is celebrated properly, it's a good idea to give them an early treat, so why not do so with a unique experience that's impossible to rival?
Spending their special day doing something Christmasy won't feel like a proper birthday, so switching things up completely will show that you've made an effort to recognise their day properly and do something different. No reindeer, jingle bells, or Christmas carols; just engaging, authentic combat, good times and an unforgettable day out.
Paintball is a Brilliant Form of Exercise Before Christmas
Everyone is guilty of overeating at Christmas, which is often followed by a New Year's resolution to lose weight. With so much amazing food, sweets and other treats in the house over this period, it's almost impossible to maintain a healthy diet. Although your kids might be unconcerned with calories at this stage, it's natural as a parent to want them to be as healthy as possible, so a bit of exercise is never a bad idea.
This isn't to say that you have to get your child to the gym, running, or doing daily kettlebell workouts. Something fun that burns plenty of calories will do it. Paintball incorporates running, climbing, plenty of stretches from crouching, and carrying around a paintball gun all day is a great strength exercise. Kids are jam-packed with energy, so the full-body workout of paintballing won't be too strenuous, but they'll still feel the benefit!
Is there a special occasion you want to celebrate in a unique way this year? Go Paintball London is the perfect place to rally the troops, immerse yourselves in exciting environments and create lasting memories. Book online today or contact us via hello@gopaintball.co.uk for more information.