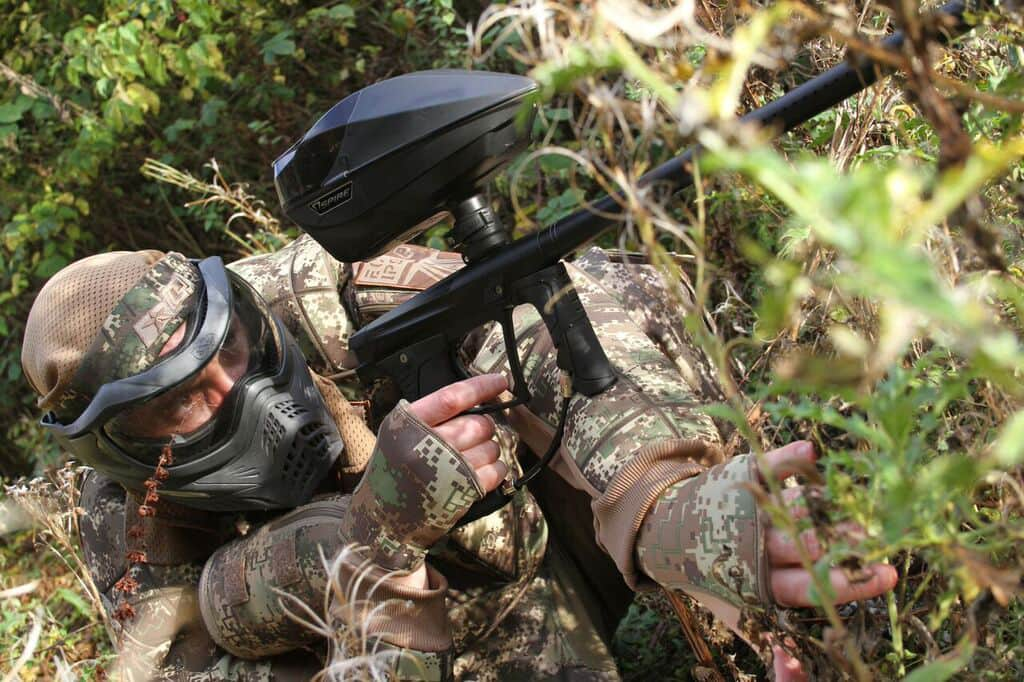 Christmas may be gone, but the fun doesn't have to stop. Paintballing is the perfect activity to make the start of 2017 one to remember.
The start of a New Year should always be spent enjoying yourself as much as possible. With Christmas is gone for another year, you'll soon find yourself back in your work routine, and the last thing you need to do to see in the New Year is to fall into a bit of a lull. Now is the time for excitement and new experiences — and it doesn't come much more exciting than a day of skirmish paintball. Here are a few reasons why a day with us at GO Paintball London is the perfect way to kick off 2017.
1. Continue the Festivities
Whether your Christmas or New Year holiday was jam-packed with exciting activities, Netflix marathons, or a tonne of family time, everyone has their own way of making the most of some time off. This is why the end of the festivities can see you entering the New Year on a bit of a downer.
There's an easy way to prevent this happening. It's by embracing what had made the holidays so exciting. Just because the festivities around you have died down, doesn't mean you can't go in search of your own.
A day of paintball provides a whole host of action-packed situations that are designed to deliver the most immersive and engaging experience possible. 'Tis still the season to be jolly!
2. Start the Year With Some Exercise
There's no doubt that you or someone you know has a New Year's resolution to do more exercise this year — and it's a sad fact that this particular resolution is often short-lived.
Luckily for you and your friends, we have the ideal solution. Not only is paintball ridiculously good fun, but a day of intense action will also prove to be a fantastic workout. All of the running, ducking behind cover, climbing obstacles and carrying a weighty weapon around for the day will go a long way to burning off those extra calories from Christmas feasting.
Unlike many other sports, you rarely notice how much of a workout you're putting your body through during paintball until you stop. With so much adrenaline flowing and rival team members running around with the goal of pummeling you with paintballs, the last thing you'll be thinking about is how exhausted you are.
3. Do Something Out of the Ordinary
New Year, new you? The start of 2017 is an excellent opportunity to start afresh and introduce something new and exciting to your life. One way you can do this is by trying some unique, out-of-the-ordinary activities — and few sports maintain these traits more than skirmish paintball.
It may not be the only combat-based simulative sport out there, but paintballing offers an immersive experience that's difficult to rival. At GO Paintball London, our variation of mission-style scenarios across our five huge maps will give you a paintball experience like no other. With a range of weapons and equipment, you can truly make it a unique day out.
4. The Ideal Start to an Outdoorsy Year
As modern technology has continued to evolve, it's provided people with more and more reasons to stay indoors. We're all guilty of embarking on the occasional box set binge when we should really be out getting some fresh air.
A day of paintballing is an ideal way to start as you mean to go on. This isn't to say that you'll be spending the next twelve months rolling around in the shrubbery while shooting enemies with a paintball gun, but it will give you an early opportunity to embrace your inner outdoorsman.
If your New Year's resolution is to spend more time outdoors or to get more exercise, paintballing has you covered on both counts. It also has the bonus of being able to shoot your friends with a paintball gun. Happy New Year indeed!
Fire 2017 Into Action With Some Skirmish Paintball Action
The Christmas holidays are unfortunately over and, as we head into a New Year filled with possibilities and opportunities, it's important to take some time to enjoy yourself before another year flies by. Instead of seeing it as 'just another year', use this time to welcome in 2017 and have some fun. What better way to do this than to rally some of your friends and get stuck into some intense paintball action?