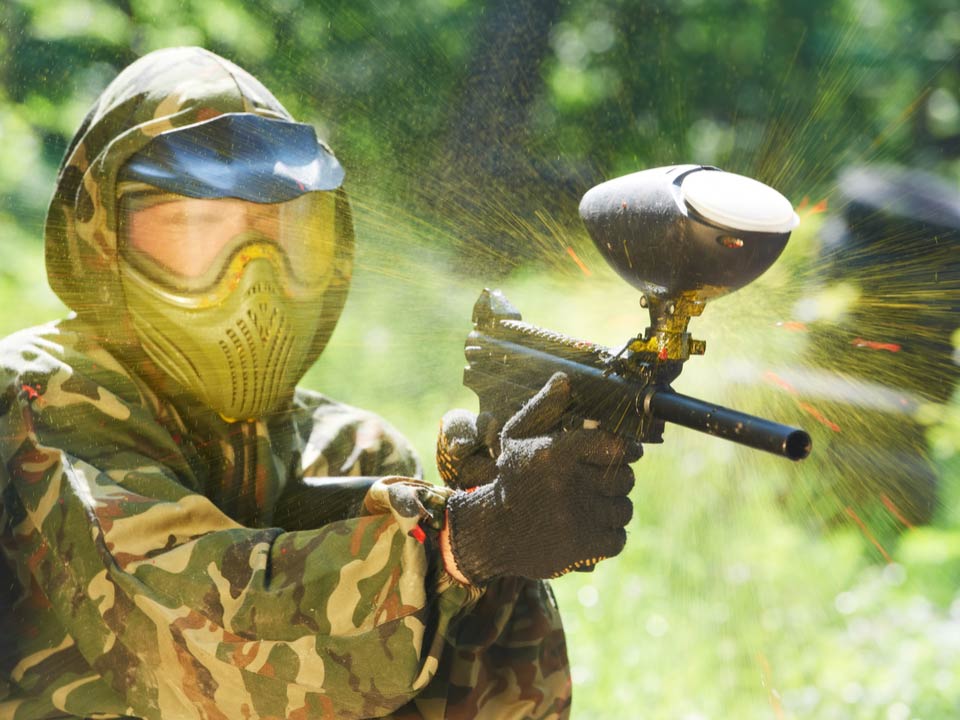 If you're not a Londoner and will be visiting the capital for a day at GO Paintball London, what kind of hosts would we be if we didn't give you a quick guide to make your trip run as smoothly as possible?
Although we aren't in London's inner city, a quick drive or 20-minute train journey is all it takes to experience the best paintball near London. Being in such close proximity to the UK's capital makes GO Paintball London the perfect outdoor activity for anyone visiting the city, as it gives you a little break from the hustle and bustle to breathe some fresh air in rural surroundings.
In this post, we'll cover a few pieces of helpful information for your visit to our facility, as well as some ideas for how to spend the rest of your time.
Visiting Our Paintball Facility
As we mentioned above, we aren't based the inner city, but we are the best and closest place to play paintball near London. If you brought your own transport to the city and will be driving to our venue, it will take just over an hour. To make sure you arrive as quickly as possible with minimal trouble, we have provided detailed instructions on our contact page.
If you have travelled to London by public transport or flight, you'll be happy to hear that our venue is easy to reach by train and will probably be the quicker option. Your destination by train should be Whyteleafe South Train Station, from which you'll only have a short walk to arrive at our venue.
Detailed instructions for both methods of travel can be found on our contact page, but if you have any further questions, please don't hesitate to get in touch.
What To Expect on a Day of Paintballing
Now that you have a good idea of how you're going to get to the venue, let's talk a little bit about what you can expect on the day. First of all, you'll be kitted out with a protective mask, overalls and your weapon of choice. It's worth noting that our standard weapon is a brilliant bit of kit, but there is a range of weapons you can upgrade to – such as a sniper rifle, assault rifle and submachine gun – which are fantastic to apply your own playing style to the game.
We also sell additional offensive equipment, such as smoke and NOVA gas grenades, as well as armoured gloves for extra protection and tactical beanies to keep warm in colder conditions.
Once you're kitted out and ready for action, a member of staff will run through through the rules of paintball and how to play the game safely, as well as any specific conditions of the game you're about to start. From here, it's time to step foot onto one of our expertly-designed battlefield environments. Our maps are diverse, engaging and immersive, allowing you to play how you want to play and have as much fun as possible.
We will even provide a free Pizza Hut pizza for each player, so if you haven't made plans for dinner or need some fuel heading into the next battle, we've got you covered.
The GO Team Offers More Than Just Paintball…
Our GO Action Forest isn't just home to GO Paintball. We also host zorbing experiences, as well as 'mini paintball', which is solely designed for younger children. If you're travelling to London with family or a group where the ages vary quite a bit, the GO Action Forest has something to suit everyone's needs.
All of the events are held at the same venue, which means you won't have to worry about travelling to different locations. If half the group are eager to experience paintball, but others would prefer zorbing, we give you the best of both worlds to please everyone. Or, if everyone wants to experience both activities, you can choose to spend half the day with GO Paintball and the other with GO Zorbing.
Fun Things to Do in London
Obviously, the top priority during your trip is enjoying the best paintballing London has to offer, but we'd be remiss if didn't give you a hand filling up your itinerary. As it's the summer – or as close to a real summer as the UK gets – it's an ideal opportunity to enjoy the weather and explore some of London's beautiful parks.
There are many parks to choose from, each with their own attractions and fun things to do. The Regent's Park, for example, will give you options galore, whether it's hiring a rowing boat, catching a show at the open air theatre, grabbing an ice cream and strolling through the rose gardens, or just chilling on the grass and eating some food.
Want to carry on the exciting and energetic tone set by your day of paintballing? Hiring a bike with family or friends is a great way to explore the city, get some exercise and make sightseeing an even more memorable experience. If you prefer something on the wild side, you could book a bungee jump at the O2 Arena, or glide across the Thames on a speedboat tour. The options are endless.
Are you planning a trip to London and need exciting activities to fill your day with? GO Paintball London is the ideal choice! We have immersive outdoor battlefields, the newest professional weaponry and we'll cover the cost of dinner with a FREE Pizza Hut pizza. Head to our website to book online, or get in touch hello@gopaintball.co.uk.