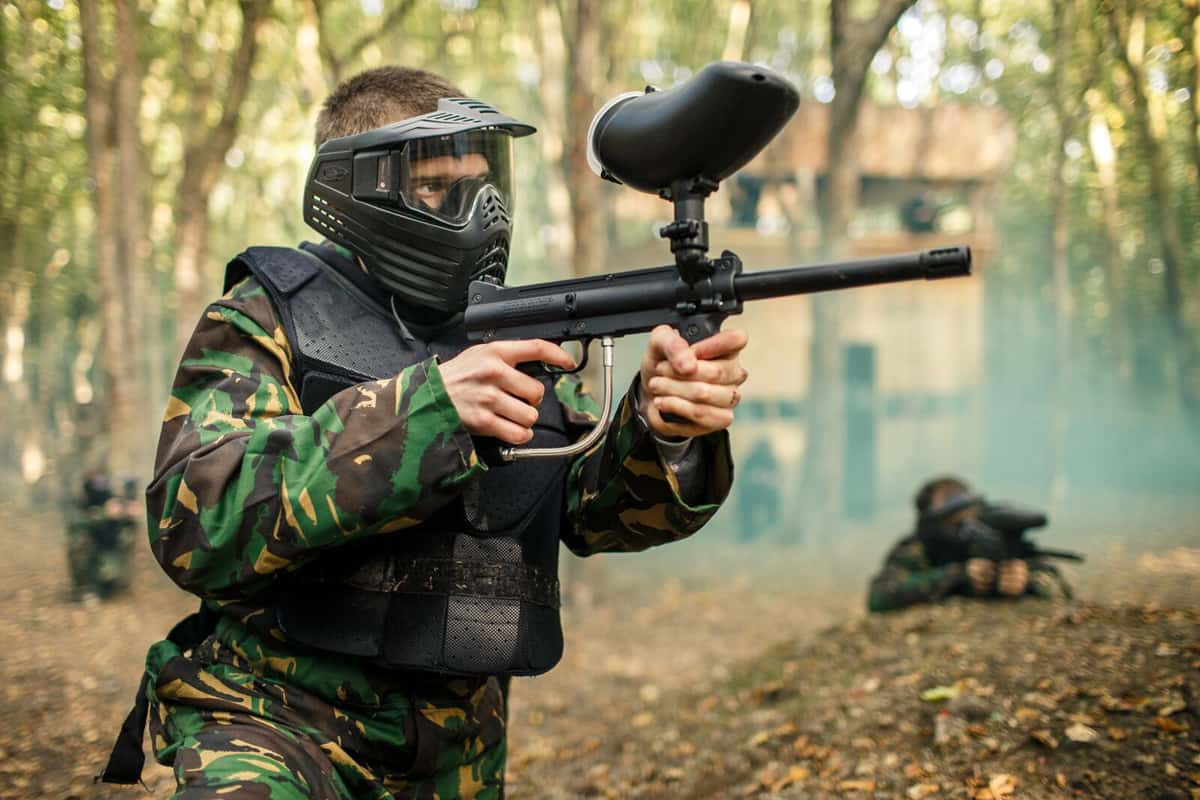 A house full of chocolate-fuelled children can be hard to handle at the best of times, so during Easter, it's best to plan ahead. Paintballing might just be the ideal choice of activity.
Although it only feels like yesterday that the chaos of Christmas was among us, it's April already. Your children will be off school for a few weeks and there will be an abundance of Easter eggs being consumed. All that sugar and nothing to do will most definitely make it a tiring time as a parent, so it's time to come up with a plan of attack. And attack they shall!
Paintball is the perfect way to allow your kids to let off some steam and have fun, as well as provide you with an ample amount of peace, quiet, and brownie points. Here are a few reasons why.
It Gets Them Outdoors
In a digital era where there's an obsession with all things technology, the great outdoors has become less appealing, especially to children. That's why it's important to get them off the sofa and enjoying the outdoors whenever possible, and there are few activities that can entice children as much as paintballing.
At Go Paintball London we take pride in providing each and every player with a fully-immersive paintballing experience. Our five expertly designed maps spread across 50 acres, along with the professional-quality equipment, are sure to create the ultimate outdoor paintball adventure.
Paintball is a Great Form of Exercise
Despite the current generation's love for technology and generally being indoorsy, healthy living and fitness are more popular now than ever before. Diets, 'foodie' blogs, workout regimes and weight loss have all become infectiously popular. As a parent, preventing couch potato behaviour is a must, and you couldn't ask for a more exciting way to exercise than paintball.
With a combination of running, jumping, diving between cover, climbing obstacles and enough action to get your heart racing, your body will be going through quite the workout. Even the most hyper child hopped up on e-numbers will be worn out after an intense day of paintball. So expect to have a quiet house in the evening.
Allows Them to Embrace a New Activity
Here at GO Paintball London, we think that paintballing is an activity everyone should try at least once. If it's not your cup of tea, that's fine, but by allowing your children to see and do as much as possible, you open their eyes up to the wealth of excitement out there.
While we do cater for special occasions, such as stag do paintball and paintballing birthday parties, as a sport paintballing has become a hugely popular activity played on a professional level. If you have children that are yet to find a sport or activity that reaches out and captivates them, paintballing is well worth a try.
It's Ideal for Gamers
If your child or children are avid gamers getting them to put the pad down can be a pretty tough task, especially if you lack an alternative that fuels the excitement and engaging nature of games such as Call of Duty and other 'first-person shooters' (FPS).
The world of gaming has become quite the phenomenon, and there is an obvious appeal to both children and adults. But this isn't to say they should spend all of their free time in front a screen, and the fast-paced action of paintballing is a viable and worthy distraction.
Not only do our authentic combat scenarios replicate the action going in the FPS-style shooting games, but the time spent outside having fun with a group of friends – instead of speaking online via a headset – will benefit them greatly from a social standpoint.
At GO Paintball London we strive to make our facility as exciting and engaging for people of all ages (aged 8+). Children are very much welcome at our facility, and we specifically cater for them with the use of reduced-power weapons. As a sport, paintball is extremely beneficial for many reasons, and it could be the perfect way to keep your children entertained throughout the Easter holidays.