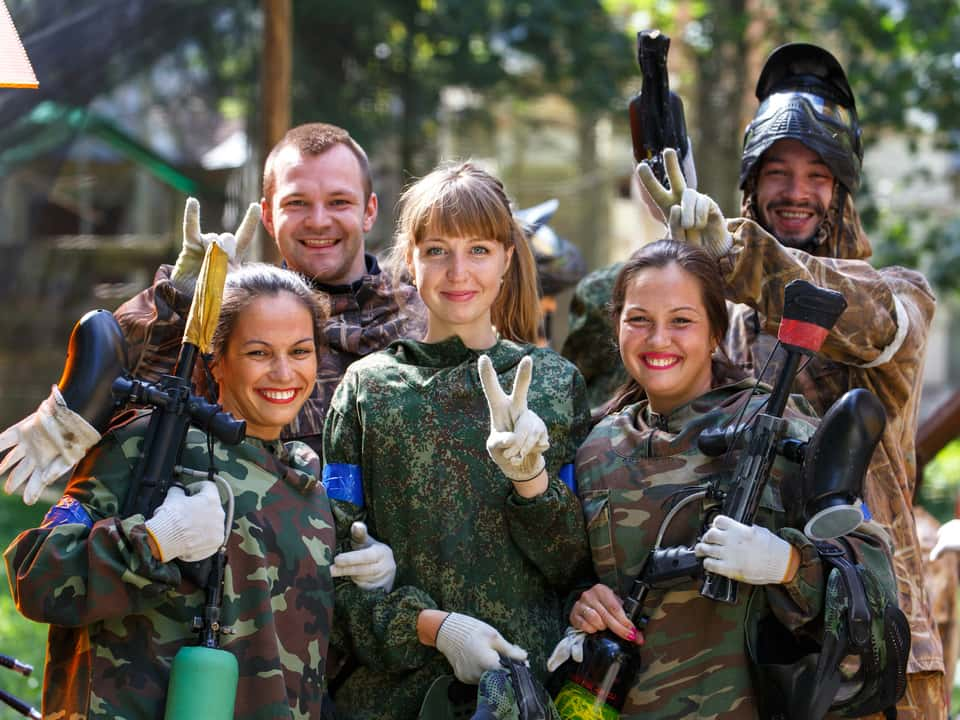 When any employee hears the words 'team building', they usually expect a day of awkward bonding activities. Instead, why not treat your troops with something more fun and beneficial? A day of paintball near London certainly fits the bill.
There's no doubt that conventional team building activities can be an excellent way to get co-workers to bond and work better as a unit, but that doesn't mean they're enjoyable for those involved. Christmas is coming up and you'll likely be putting aside some funds for a Christmas party or meal. Using this money for a team building day instead might sound suicidal for a business, but not if that day consisted of an adrenaline-fueled afternoon of fun, laughs and high-octane combat.
The suggestion of paintballing will give your employees a well-earned treat this Christmas. In the process, you and your business will benefit from the team building aspects of the sport and a group of employees who appreciate a day away from the office, spent instead on the battlefield.
Paintballing is a Great Bonding Experience
For your employees to work together as a team, it's always beneficial to give them the opportunity to bond. This isn't to say that everyone in the workplace has to be best friends, but providing the platform for co-workers to connect on a personal level will help them to get along better.
The unique nature of paintball makes it such an immersive experience for all involved. Even those who have no interest in the outdoors or combat-like sports will find themselves embracing their inner Rambo. Co-workers will be at their best and most efficient when they're happy, and experiences like paintball will allow them to bond in a fun environment.
Genuinely Beneficial for Teamwork
The problem with a lot of team building exercises is that people simply don't get excited or engaged by what they have to offer. When it comes to paintball, you instantly become alert and engaged – partially because there's the possibility of being shot! Not only is it fun to play, but the need for team tactics make it a genuinely beneficial experience for team building.
Many of the skills are transferable to the workplace, one of which is the need for communication to succeed. In paintball, it's vital to plan your next move and work together to achieve a united goal. The same can be said for the workplace, where communicating well during shared projects will help you to achieve better results.
Healthy Alternative to Parties
Your employees will naturally be counting down the days until the Christmas break, but before that happens, there's usually a party or meal to organise. While there's no doubt these activities are beneficial for people to relax and have a good time, the money you'll spend on it could be invested into an even more productive day of paintball. This gives you a chance to do something unexpected for your hard-working employees. Plus, you'll avoid a hangover and embarrassment from any regrettable drunken behaviour!
Christmas is obviously a time where most people overdo it in regards to food and drink; it's hard not to with so many treats available. A day of paintballing will not only avoid the abundance of food and drink at a party, but it's also a brilliant full body workout. If your employees spend a lot of time sat down at desks, this is the perfect contrast to their regular routine and will send them into the Christmas holidays with a boost.
Paintballing Provides Healthy Competition
The head-to-head combat of paintballing not only makes it an exhilarating experience, but also adds a unique sense of competition that few other sports can replicate. While some companies prefer to keep competitive behaviour out of the workplace, when utilised correctly, it can boost productivity. Engaging in competitive activities out of the office is an effective way of encouraging healthy competition among your employees.
Healthy competition is a great way to get the most out of employees, as any sense of one-upmanship is light-hearted and doesn't make the workplace an uncomfortable place to be. Co-workers can settle competitions during out-of-hours activities and sports, and the bonding involved with it will create stronger working relationships.
Are you looking for a unique team-building activity for your employees? GO Paintball London caters for corporate paintball days out and can even organise private sessions to suit your schedule. Book your paintball session today and rally the troops for a day to remember!