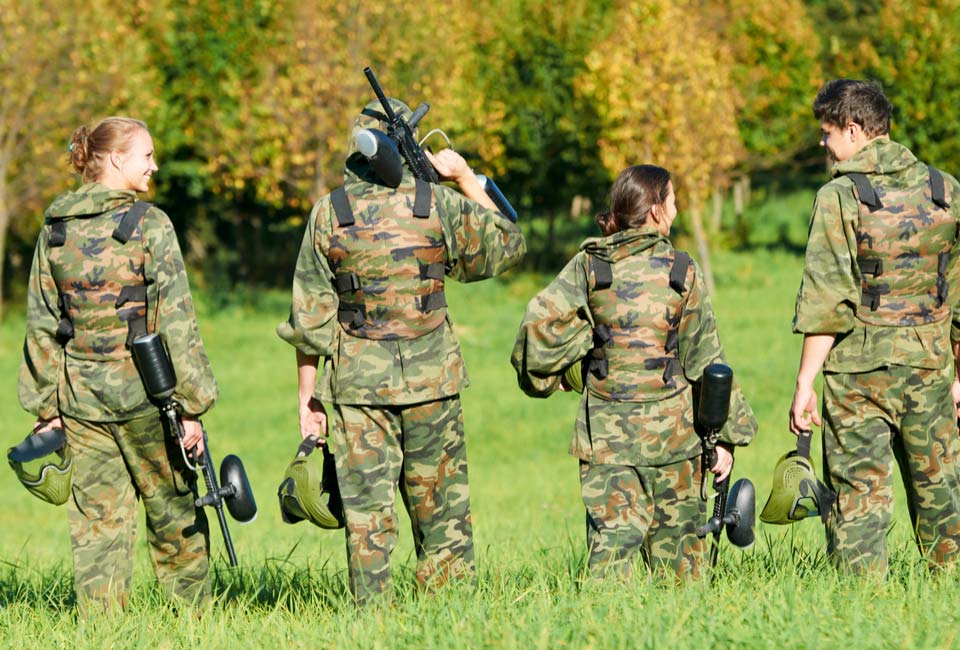 The end of summer is right around the corner – and with it goes the small window of warm weather in the UK. Instead of heading into autumn down in the dumps, use this time wisely and give yourself an end-of-summer treat. What better way to boost your morale than a day of paintball in London?
As the UK utters a collective sigh of disappointment as summertime comes to a close, now would be the time to give yourself a morale boost. There are many ways you could do this, such as enjoying the great outdoors, taking time out for a city break, or our personal favourite: a day of paintball filled with excitement and memorable moments. Can't decide between the three? Why not visit the UK's capital and take some time out for an unforgettable day of outdoor paintball near London?
Paintball is an activity that's difficult to compare to any other and a tough task to rival, which is why it's so perfect for an end of summer morale boost. Here are just a few of the many reasons why...
Paintballing: The Perfect Excuse to Get Friends Together
As a child, summertime was "the summer holidays". Then, as you get older, you come to realise that six weeks off in the summer isn't standard procedure. Organising plans with friends can be a tough task due to various schedules and finding an activity that everyone will enjoy is never easy. This is why paintballing in London will be the perfect opportunity to rally the troops for a unique and exciting day out.
At first, you may think paintballing is a very particular sport in regards to the type of person it attracts, because combat-style activities aren't for everyone. But a day of paintball near London allows you to explore rural battlefield environments, compete in immersive combat scenarios and, most importantly, you'll be able to shoot your friends with professional-quality paintball guns!
It's also worth noting that team-building exercises with friends are a fantastic way to bond and boost your morale. Not only will a day of paintball near London allow you to enjoy the outdoors and compete with friends, but you'll also come away from the experience with plenty of memories to look back on.
Getting Outside is Good for Your Mood
In the digital age, the huge amount of gadgets and technology have given people more than enough reasons to stay indoors more. While there may well be a lot of fun involved with these activities, there is no substitute for getting outside and enjoying the fresh air.
There is an abundance of articles and studies that demonstrate the benefits of spending more time outside. These range from increased brain function and creativity, to encouraging weight loss, to stress relief – and of course improving your mood. As the end of summer is looming and your current joyous mood falters, a day of paintball to increase the spirits of you and your friends could be exactly what you need.
Here at GO Paintball London, we provide a fantastic experience for a variety of age groups and occasions, so if you want to celebrate a birthday with us, or something more specific like a stag do, we're more than happy to do whatever we can to make it a memorable day.
Paintball is a Unique and Exciting Form of Exercise
These days, trends come and go within the blink of an eye, but one that has remained and still has an enormous following is health and fitness. The humidity and temptation to relax in the sun make summer a less appealing time to go for a run or spend hours in the gym, but exercise has a fantastic effect on your morale, motivation and overall health.
Whether you're an exercise fiend or someone who has slacked off a bit throughout the summer, you'll be glad to hear that paintballing is an incredible form of exercise that provides a full body workout. You'll be able to get work on some cardio as you run between cover, climb obstacles and chase enemies (or run from them). The varied stances such as crouching, kneeling and ducking – as well as carrying a gun all day – will combine for a thorough strength workout.
If the gym or other conventional methods of exercise don't appeal to you, a day at GO Paintball London will provide you with a more unique way to break a sweat. The combination of stress-relieving endorphins released while exercising and the immersive nature of paintball will leave your spirits high and eager for your next paintball experience.
Summer Satisfaction With Paintballing in London
Summertime tends to fly by before we get a chance to make the most of it. With the summer of 2017 pretty much over, it would be a shame to see out the season without having done anything to look back on fondly. A day of paintball near London is an ideal opportunity to see some of the rural environment that surrounds the UK's capital and have fun with friends. Even more importantly, though, it will provide you with a satisfying finale to your summer.
Here at GO Paintball London, we strive to give every player a paintballing experience to remember, which is the perfect way to fight off the end-of-summer blues. Throughout the day you'll immerse yourself in a variety of tactical games, spread across five huge maps, and you'll even get a free Pizza Hut pizza! A day of adrenaline-fuelled activity and a free pizza; what more could you ask for?
Have you got the end-of-summer blues and need a pick-me-up?A day of paintball in London is the answer. Immersive battlefields, engaging combat and a free pizza to top it off! Head to the GO Paintball London website to book online, or get in touch via hello@gopaintball.co.uk.