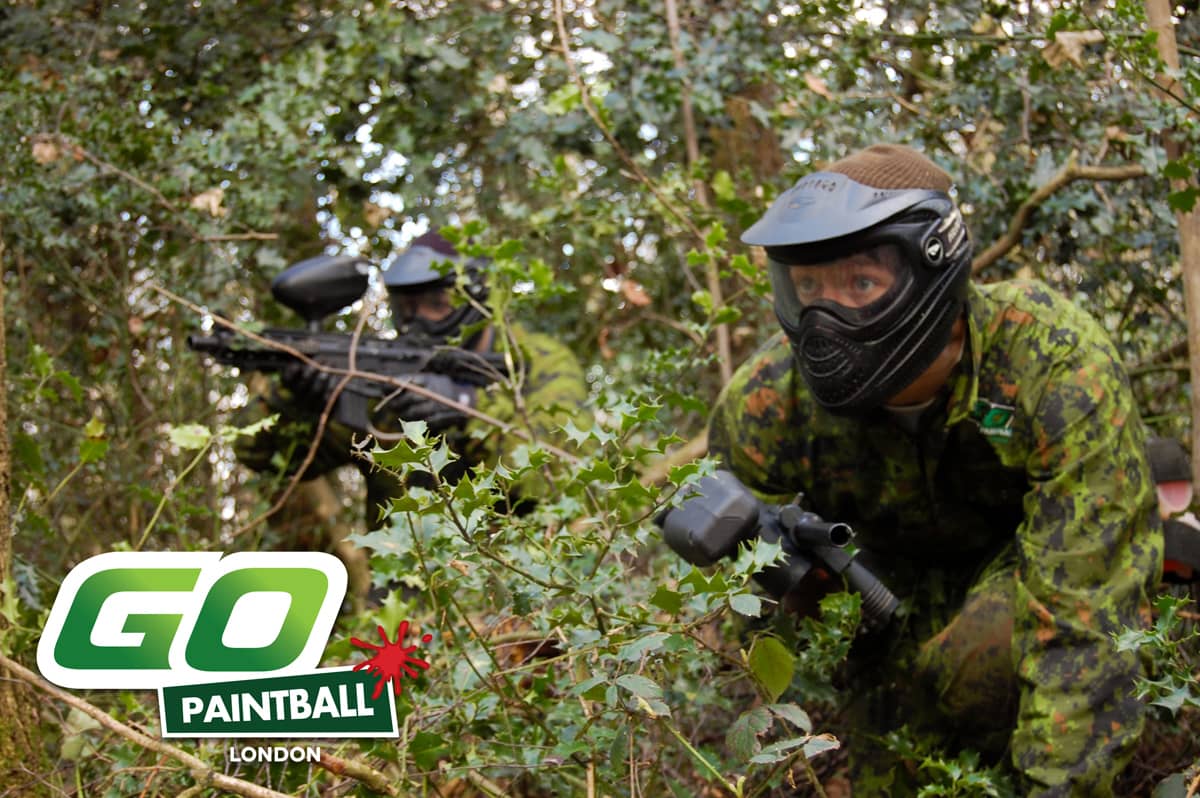 When Tommy launched GO Paintball London, we made it our mission to find our customers the best, most reliable Paintballing guns and equipment and bring them all together to create the ultimate and most formidable standard paintball 'equipment hire' package out there!
We're not a standard paintball field and we don't do standard paintball days. We want you to have the best possible paintball experience and that's why we make sure that all of our players have access to the best possible paintball gear.
Not so 'standard issue' Equipment hire
When you play paintball at our London site, you can upgrade your paintball marker in a way that suits your playstyle. For those who consider themselves Rambo reborn, we offer devastating submachine guns, while those that favour a stealthier approach can become the ultimate marksman with our long-distance sniper rifle. Whatever your playstyle, you can upgrade your standard-issue paintball marker for a weapon that sets you apart from the crowd.
Still not convinced? Read reviews from countless happy paintball players on our Facebook page.
Better-than-standard issue paintball marker
Paintball's no fun when your paintball marker doesn't work. Other paintball companies use the cheapest possible paintball markers that jam up every five minutes and don't fire straight even when they are working. We've invested in excellent paintball markers as standard for a seamless paintball experience.
Our better-than-standard issue paintball markers are built to be bomb proof. They are ultra reliable and won't let you down in a firefight. The ergonomic design enables you to create a stable shooting platform for pinpoint accuracy. When you move into close range, the semi-automatic setting will let you fire three shots per second.
Our standard entry price includes paintball gun hire and all the paintball supplies you'll need to enjoy a game of paintball. All you need to buy is the paintballs, but don't worry! Unlike other paintball companies, we don't overcharge for extras. We sell them at a fair price of £5 per hundred. Our paintball deals start at £20 for 400 paintballs and we'll throw in a personal pizza and drink too!
AR-15 Assault Rifle (+£10)
Consider yourself a weekend warrior? Upgrade your paintball marker to an AR-15 and see what a difference it makes to your play. As most of us know from Call of Duty, the AR-15 is known for deadly accuracy at mid-range. While your buddy is missing his shots, you'll be dispatching the opposition with a series of well-aimed paintballs.
The AR-15's soft pull trigger enables semi-automatic fire of six paintballs per second.
A5 Sniper Rifle (+£15)
The paintball sniper is a legend on the paintball battlefield, something we all dream of being, but very few of us achieve. Until the A5 came along and changed everything.
A paintball sniper excels at long-distance combat. You'll be quiet, calm and invisible to your opponents — the first clue they'll have of your presence is a paintball smear on their facemask! Every team can benefit from the addition of a couple of paintball snipers on vantage points who cover their teammates as they move up to the objective.
The A5 features a 16" barrel which makes it our most accurate paintball marker. It also has a muzzle brake which reduces the amount of kickback you'll feel after each shot, enabling you to put a second paintball very close to your first. Lastly, the enhanced foregrip gives you the stability that is necessary for any long range combat.
Professional GTEK Submachine Gun (+£20)
Do you have what it takes to be a paintball commando and launch yourself deep into enemy lines? If your style is to move hard and fast to key locations and catch your opponent off guard, then you absolutely need a GTEK in your hands. This little beauty is the paintball marker of choice for professional players around the globe. We're proud to be the first paintball company to rent this specialist equipment to Go Paintball players.
Players equipped with GTEKs tend to lead the charge and move in ahead of the rest of the team. In the dream scenario, they are able to move up the sides and into a flanking position, taking the enemy by surprise. What sets the GTEK apart is the micro switch double trigger that enables a breathtaking eight shots per second. That lets you fire 100 paintballs at an enemy bunker in just over 12 seconds — not even Neo would be able to dodge that kind of firepower!
All the paintball gear for our London site is handpicked, from the goggles to the camo
It's not just your paintball marker that you'll rely on in the battlefield, you'll also need a face mask for protection, a camouflage suit to help you stay hidden and an ammo belt to hold your paintballs.
Most sites get the cheapest and oldest equipment that they can find, but that means smelly camouflage, badly fitted face masks and no ammo belts.
We improve your paintball experience by ensuring that your paintballing equipment is top notch. Our goggles are anti-fog, so you won't lose your vision when you need it most, and our ammo belts enable you to reload on the move (like the professionals do). We also offer flexible body armour for those who aren't keen on bruises!